Passion for events? Join the show!
Take the next big step in your career!
📍 Based in Brussels, the buzzing capital of Europe, Easyfairs HQ is the heartbeat of the Easyfairs Group. Easyfairs HQ is a brilliant place to work, not least because we have a diverse, dynamic and dedicated team with an entrepreneurial spirit; it is where the Group makes its key business decisions!
💡 As the centre of operations servicing a network of local entities, our 80 HQ talents' core activities span Technologies, Business Development, Finance, Talent Management, Marketing and General Management.
Together, we develop and provide future-proof tools & technologies, create and enforce long-term strategies, share best practices and – as we say – easify business processes and ways of working.
🚀Our mission is to boost the success of our regional offices, so they can serve their B2B and B2C communities even better.
⭐So… curious about our current opportunities for you?
Find out below and #JoinTheShow at Easyfairs HQ!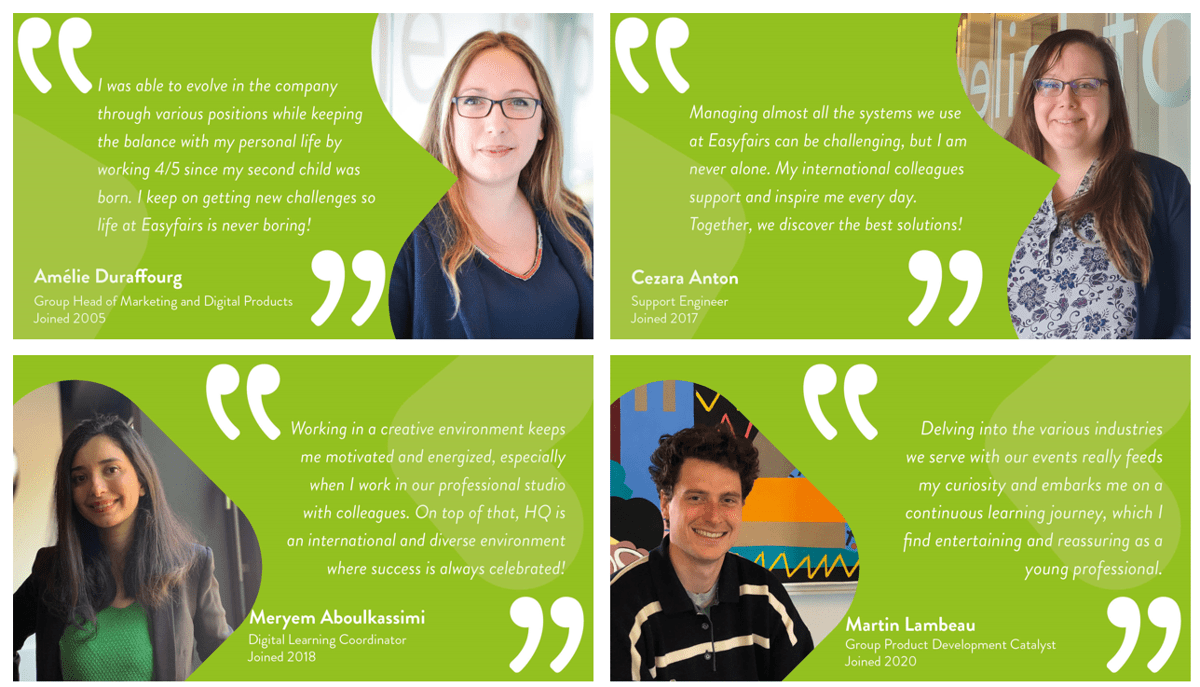 #LIFEATEASYFAIRS
🤩 Here is what it's like working at Easyfairs:
About Easyfairs Headquarters
Easyfairs organises and hosts events, bringing communities together to visit the future.
We organise 200 events in 14 countries (Algeria, Belgium, Denmark, Finland, France, Germany, Italy, the Netherlands, Norway, Portugal, Spain, Sweden, Switzerland and the United Kingdom) and manage eight event venues in Belgium, the Netherlands and Sweden (Antwerp, Ghent, Mechelen-Brussels North, Namur, Gorinchem, Hardenberg, Malmö and Stockholm).
We are passionate about "easifying" the life of our customers and increasing the return on investment and return on time for professional communities through our all-in formulas, advanced technology and customer-centric approach.